THIS IS NOT ANOTHER PELOTON
Get fit with unlimited access to tutorials and classes hosted by our infamously bad-ass Hit It!® fitness trainers—no $3k stationary bike (or anything else) required.
WHAT YOU GET:
Anytime access to all the Hit It!® workouts you love to hate
Exclusive step-by-step tutorial videos so you learn the workouts properly
Early access to NEW fitness choreography and classes
Live monthly streaming workouts
Access to an amazing community of people and coaches that support and inspire you
Badass IN THE STUDIO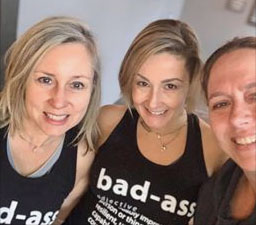 From Group classes to Private Personal Training, Power Plate Vibration Technology Training, Boxing Training and more, we have a program based on every need and budget. If you're interested in touring the studio and sitting down with the owner, Constance will gladly have a conversation with you to make sure you feel comfortable and both mutually feel like a good fit. No pressure. No sales tactics. Just honest genuine feedback and advice.
Schedule Here:
Badass ON THE DANCE FLOOR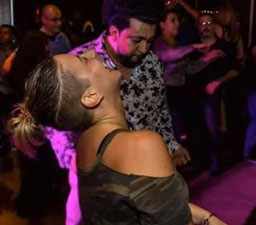 We now offer Salsa and Bachata Classes for Adults and Kids!
No partner or experience necessary.
Looking for a fun social event? Our class meets out at some of the local salsa clubs regularly to practice our new moves
Register here: www.latinstreetdancing.com
We offer nutrition coaching, healthy cooking lessons, meal prep help and more!
Badass KIDS + TEENS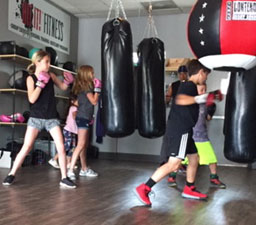 We specialize in working with kids that have no desire to stay active as well as athletes who need to work on their speed, agility, coordination and core strength. Boxing training teaches kids discipline and gives them a major confidence boost. We run ongoing 6 week sessions for both kids ages 7+ and teens 13+
Health isn't always about physically working out. You can never be truly healthy if you are putting unhealthy, inflammatory foods in your body or allowing unhealthy individuals to suck your energy and drain your soul. Sometimes the first step to getting physically and emotionally clean is the hardest.
Many people think 'Narcissist' is just a character trait we use for significant others that we have discarded or that have discarded us. Narcissism is a personality disorder. Its diagnosable and untreatable. Being in a relationship with a narc can be wonderful and at times pure hell when you start to see the ebbs and flow of the cycle of abuse that occurs. Narcs wear a mask and over time the mask starts to come off. You think it's your fault, you blame yourself. Some of us are lucky enough to find our voice, see our true worth, get out, move on and find happiness. Many of us need to heal or just be heard. We are proud to offer our online Facebook group for support. Check out our Podcast "Too Fit To be Tied" on Apple Music OR Spotify. Please contact Constance for further info.