Crockpot Cranberry Coffee Cake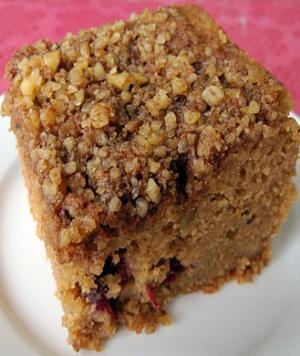 Looking for something sweet to have for the holidays? Try this amazing gluten-free coffee cake recipe for a slow-cooked treat.
Ingredients:
For the crumb topping:
1 cup walnuts
1 tablespoon coconut oil
2 tablespoons coconut palm sugar
1 teaspoon cinnamon
Pinch kosher salt
For the crumb cake:
2 cups Pamela's Baking & Pancake Mix (http://pamelasproducts.com/products/baking-mixes/pamelas-baking-pancake-mix/)
3/4 cup coconut palm sugar
1 teaspoon cinnamon
1 teaspoon orange zest
2/3 cup coconut oil, melted
2 large eggs, at room temperature
1/2 cup light sour cream
1/2 cup plain, low-fat yogurt
1 teaspoon vanilla extract
1/2 cup cranberries (fresh or frozen)
Directions for the crumb topping:
Put the walnuts, coconut oil, coconut palm sugar, cinnamon, and salt in a food processor fitted with a steel blade. Pulse several times, then process until the nuts become crumbs. Set aside.
Directions for the coffee cake:
Whisk together the flour, coconut palm sugar, cinnamon, and orange zest. In a separate bowl, whisk together the liquefied coconut oil, eggs, sour cream, yogurt, and vanilla extract. Mix the wet ingredients into the dry ingredients. Fold in the cranberries. Put the batter into a greased, 4-quart Crockpot. Smooth the top. Sprinkle the crumble topping across the top of the cake and press into the batter. Put the lid on the Crockpot, venting it with a wooden skewer. Bake on low for 2-3 hours, until a knife inserted in the center comes out with just a few moist crumbs. Serve warm or at room temperature.