Hit It!® Fitness NEW Elmwood Park Studio
7730 W. North Ave. Elmwood Park, IL 60707 Phone: 708-506-1614
Constance Contursi, Owner and President is a national master trainer and national continuing education provider presenting the Hit It!® Fitness brand of classes all over the nation. She hand selects her staff and trains them all according to her standard of excellence. We are leaders in the industry and our classes, our personal training style and the results our students get exemplify that!
We offer cutting edge group and private programming beyond that of average health club offerings. Our classes are effective and progressive, always evolving with you as your body transforms.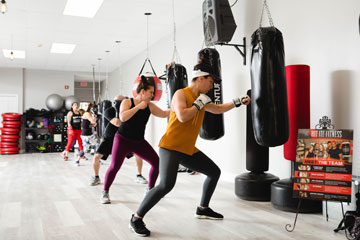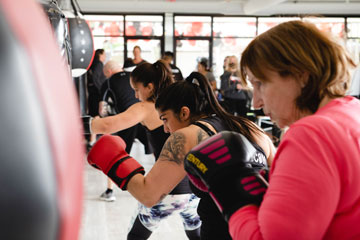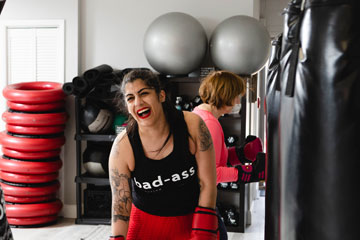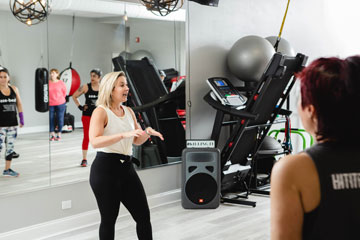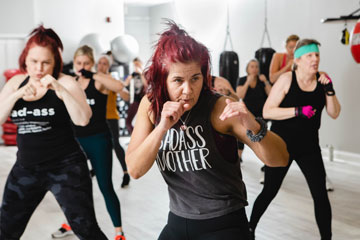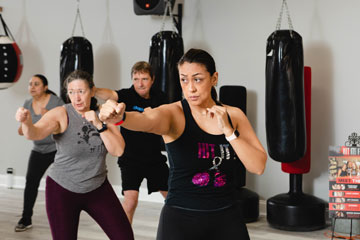 Hit It!® Fitness Schedule
Updated 1/25/22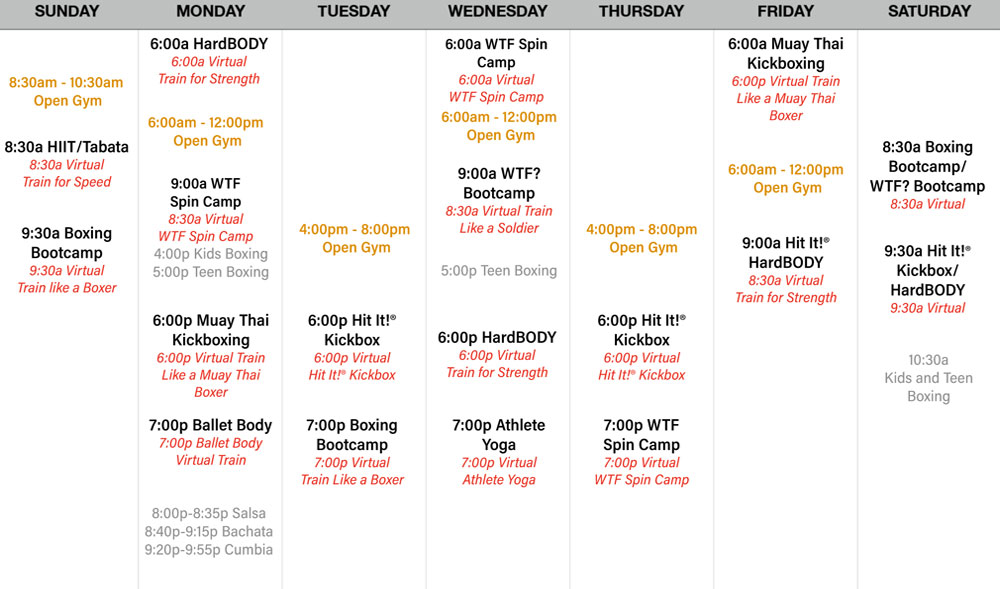 Hit It!® Kickbox: Based on the workouts in the Hit It!® Fitness DVD series, this intense cardiovascular and strength conditioning class incorporates boxing, karate and tae kwon do techniques. Using focused punches, kicks and other varied exercise movements, Hit It!® Kickbox totally reshapes participants' bodies!

Hit It!® KickboxII: This class incorporates the best from two worlds of fitness & an intense cardiovascular conditioning kickbox class plus HIIT! High- intensity interval training drills are incorporated for maximum caloric expenditure and efficiency.

Hit It!® P.O.W.E.R.: The hottest cardio, resistance training & core combo class around. Using P.O.W.E.R. Punch Gloves, a mixed martial arts (MMA) glove with a removable resistance band, participants incorporate boxing bags, mitt work, and cardio drills for an overall workout.

Hit It!® HardBODY: Shock the body through various resistance training methods. Plyometrics, Super Slow, Negatives, Drop Sets, Resistance Tubing & you name it!

Hit It!® HardBODY EXTREME: This "extreme" resistance training class focuses on heavy lifting principles. If you are looking to really shred and increase muscle definition in specific areas of the body, this class is for you!
Hit It!® HardCORE: This 30 minute class is more than "just a bunch of crunches."

HIIT/Tabata: According to a study by the ACSM, just 2 weeks of high-intensity interval training improves your aerobic capacity as much as 6-8 weeks of endurance training! HIIT alternates brief bouts of speed and recovery intervals providing an insanely effective workout.

Athlete Yoga: This full-body workout is guaranteed to get you sweating! Plus increase flexibility, gain stress relief and focus on areas of the body that athletes abuse most.

WTF?: This bootcamp will leave you asking one question

TRAINING
Small Group Training, Personal Training, Massage Therapy and Nutrition Coaching also available!

Boxing Bootcamp
Increase your speed, agility and strength in this interval style bootcamp class utilizing boxing bags, mitts, jump rope and speed drills.

Party Sweaty!™
This is the class that put Hit It!® Fitness on the map. In-studio Kickbox nightclub event featuring a DJ + "after party"...Trust us! Yoga pants, live DJ, super fun party AND in bed by 10pm!