Buffalo Cauliflower Bites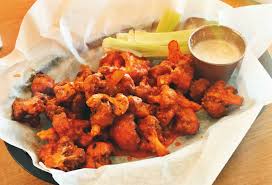 As trainers, we really push the importance of animal fats but know not all of you are into that sort-of-thing. So… here's a great recipe whether you are meatless or not!
Buffalo Cauliflower
1 head cauliflower, cleaned and cut into bite sized pieces
1 cup buttermilk
1 cup all purpose flour
2 tsp garlic salt
1 cup buffalo sauce
1 Tbsp unsalted butter, melted
Preheat oven to 450
In a large bowl, whisk together the buttermilk, flour, and garlic salt, whisking until mostly smooth
Very gently place the cauliflower in the bowl and lightly toss to completely coat with the buttermilk mixture
Place the cauliflower in a shallow baking dish and bake for about 15-18 minutes
Meanwhile, combine the buffalo sauce and the melted butter in a small bowl
Carefully remove the hot caulofliwer from the oven and pour the buffalo sauce over it, stirring gently to coat it
Return the cauliflower to the oven and bake for another 5-8 minutes. Let cool slightly and serve immediately
You can serve with blue cheese dressing and celery!